Price: $125 | Credits: One Semester | Department: English | Course ID# 212-1
This course is the equivalent of the first semester of English 12 and its focus is British literature. Topics include Old English poetry – poetic techniques, exploring different types of poetry; Medieval English literature, using different narrative techniques, figures of speech, plot; the drama of the Renaissance, stage directions in a drama, character development, Shakespearean language; analyzing literature by studying using textual evidence, making inferences, and finding the author's point of view. English 12 is approved by the University of California A-G as English (category B).
Upon completion of this course, the student is awarded 5 credits. Each credit corresponds to 15 hours of study. Of course, some students work more quickly than others, and some can devote more hours to study, so some students are able to complete the course at an accelerated rate.
In this module, students will:
Make inferences and determine the central meaning of a poem through close analysis.
Develop inferential questions in response to a poem, and identify patterns in terms of sound, form, and ideas/content within Old English Poetry.
Identify the plot in a narrative piece.
Recognize theme, author's style, and use of satire in a literary work.
Demonstrate proficiency in the use of commas.
Write a narrative essay.
Read, interpret, analyze, and evaluate dramatic works.
Write sentences and paragraphs correctly using hyphens and dashes.
Write a character analysis.
Make inferences from literary works.
Distinguish between the different types of irony.
Use the semi-colon correctly in written assignments.
Write an essay to demonstrate the ability to analyze literature and cite textual evidence.
Conduct research and correctly cite valid resources as relevant evidence.
Write a formal research paper in MLA format that focuses on answering a self-generated question that synthesizes multiple sources on the subject and demonstrates an understanding of the topic.
Correctly identify and use an active and passive voice in writing.
This course covers the following topics:
Old English Poetry
Medieval English Literature
The Drama of the Renaissance
Analyzing Literature
The Research Report
Assigned books: "Beowulf",

Geoffrey Chaucer-"

The Canterbury Tales"; William Shakespeare- "Hamlet"; Jane Austen- "Pride and Prejudice".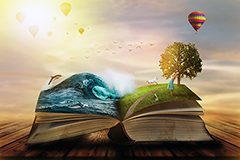 • One Semester Credit: $125
• First Semester of English 12